已加入

3/16/09
訊息

4,017
互動分數

25
點數

38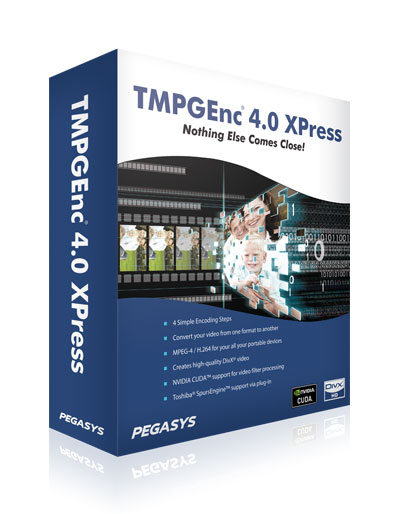 【軟體名稱】:TMPGEnc 4.0 XPress v4.7.6.304 Retail
【軟體語言】:英文
【軟體分類】:媒體編碼、影音轉檔
【檔案大小】:29.7 MB
【檔案類型】:RAR壓縮檔【
WinRAR
】【
7-Zip
】
【解壓密碼】:***回覆後可見***
【官方網頁】:
http://tmpgenc.pegasys-inc.com/cht/product/te4xp.html
技贏編碼 TMPGEnc 4.0 XPress 是支援電腦可以播放的MPEG,AVI,WMV等各種影片文檔,家庭用DVD錄影機等錄制的DVD,以及其他各種格式的影片文檔的數碼影片編碼壓縮軟體。通過我公司自行研制的高性能數碼影片編輯引擎Video Mastering Engine(VME),強化了進行影片剪輯,特別效果加工等功能!在我以往我公司產品中已深受用戶好評的用戶界面的基礎上,更加精進改善,輕松對應各種影片格式的輸出。
■開始支持新一代高清影片格式 H.264/MPEG-4 AVC,提供HD編碼功能
最新UP!
■支持對 AVCHD 格式影片的讀取
最新UP!
■增加了用于制作藍光影碟 Blu-ray 的 MPEG-2 影片素材編碼模板
最新UP!
■支持 AAC音訊格式(最多2聲道)
的MPEG-2TS 格式封裝
最新UP!
■全面支援 Flash 視頻 FLV 導入
■提供可支援在 mPack P600 上播放的文檔輸出設置模板
■提供支援可在 VoToL 上播放的文檔輸出設置模板
■支援 DivX 格式輸出
■支援最新 H.264/MPEG-4 AVC 格式輸出
■支援高清格式的 MPEG-2(MP@HL 1920x1080)輸出
■提供可支援 HDV格式的MPEG-2 文檔輸出設置模板
■提供19種映像・音聲效果模板
■裝載"高速縮略搜索預覽"-支援快速剪輯
■裝載 Smart Secene Search 轉場檢測功能
■支援 MP3 音訊的輸入/輸出:Advanced Acoustic Engine MP3 編碼器
■支援 QuickTime(MOV)格式輸出
■強化了編碼壓縮時的多線程處理功能:視/音訊預讀功能
■支援連續靜態畫面的輸入/輸出以及投影片制作功能
■支援從DVD-Video的字幕讀取
■支援標準的Dolby Digital
TMPGEnc 4.0 XPress Version 4.7.6.304 - March 31, 2010
*Added CUDA - CUDA 2.3 support.
Access to the CUDA function requires you update your graphic driver to version 190.38 or newer from NVIDIA. If you use a previous version, you will not be able to access CUDA.
*Added MPEG-2 + AAC WTV file support (The audio part of a WTV file converted into a MPEG-2 PS file by the Source Wizard may not play correctly in Windows Media Player).
*Updated the MP4/AVCHD file reader. This new version:
■Allows the reading of some files that could not be imported before.
■Fixes a doubled playback speed issue.
■Fixes a pink video noise appearing in certain configurations.
■Fixes a bold stripe pattern noise appearing in certain configurations.
*Improved memory usage for when the memory is too low, "Insufficient memory," "Invalid sample format," or other errors would display. Because of this improvement:
■Memory usage has been dramatically lowered when setting the output mode to "Output all clips into one file (or set of files)".
■The negative affects of large memory address space usage are limited, especially in Windows XP.
■Memory usage has been lowered when registering a large amount of keyframes in a project.
■Limits the usage of the file importation cache when the host computer contains a large memory.
*Improved The MPEG file reader can now import a PTS data-only MPEG file.
*Improved The Dolby Digital decoder continues outputting audio even after encountering corrupted data.
*Improved Some specific chapter thumbnail pictures from certain DVD-Video data could not be imported.
*Improved Using NearestNeighbor or BiLinear to dramatically (50x) increase the picture size could rise an error.
*Improved Drag and dropping a WTV file in the Source list now automatically displays the Source Wizard.
*Fixed In certain configurations, the Preview buttons of the cut-edit window would not display correctly and the audio waveform would display a "No audio available" message.
*Fixed In certain configurations, an error would appear at the end of a Windows Media Video output when the "Output keyframe as marker" option is enabled.
*Fixed Some capture cards' data could not be correctly converted when converting a WTV file into MPEG-2 PS.
*Fixed AVI 1.0 format outputted DivX file would not play correctly with the default Windows 7 decoder.
*Fixed Changes to the audio noise reduction filter would not be correctly be taken into account after a preview.
*Fixed Freezes would occur when applying a filter template containing audio noise reduction or audio fade-in/out to an audio-less clip.
*Fixed In the batch encoder tool Project editor, leaving the Output file/folder information blank would prevent any reference or cancellation.
*Fixed Other minor fixes
TMPGEnc 4.0 XPress v4.7.6.304 Retail TMPGEnc 4.0 XPress v4.7.6.304 Retail 查看最新版

建議安裝:

K-Lite Mega Codec Pack QuickTime Alternative

相關項目:

【影音轉檔】Xilisoft Video Converter Ultimate 5.1.26.1225 ~互轉無限制的影音轉檔利器 【影音轉檔】MediaCoder 0.7.2.4582 + 0.7.2.4594 Update (32 + 64bit) 廣受好評的免費通用轉檔工具 支援CUDA顯卡加速 【影音轉檔】CyberLink MediaShow Espresso 多國語言版 ~支援NVIDIA CUDA、ATI Stream技術 如果你覺得本軟體好用的話請點一下右下角的

↘
感謝支持!也別忘了支持正版唷!